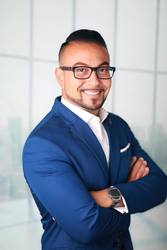 "We are honored to welcome William Charles Lee into the community," said Scott Gerber, founder of Forbes Councils, the collective that includes Forbes Technology Council.

NEW YORK (PRWEB)
April 20, 2020
William Charles Lee, CEO and Founder of GQIT, an outsourced IT consulting firm specializing in managed services for small and midsize firms, has been accepted into Forbes Technology Council, an invitation-only community for world-class CIOs, CTOs, and technology executives.
William was vetted and selected by a review committee based on the depth and diversity of his experience. Criteria for acceptance include a track record of successfully impacting business growth metrics, as well as personal and professional achievements and honors.
"We are honored to welcome William Charles Lee into the community," said Scott Gerber, founder of Forbes Councils, the collective that includes Forbes Technology Council. "Our mission with Forbes
…
Read More