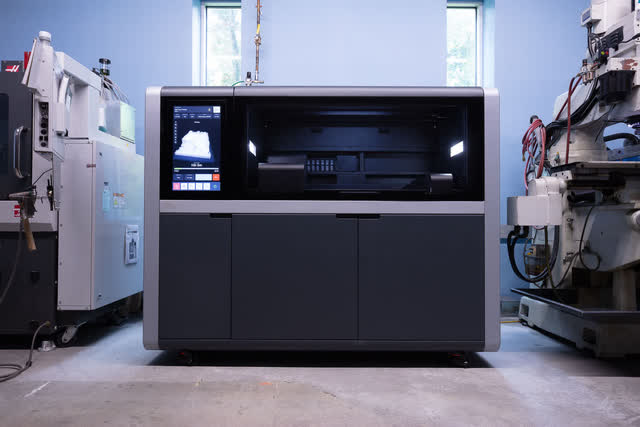 Source: Desktop Metal
Introduction
In our last article, which you can read here, we presented the bull case for DiamondPeak Holdings Corp. (DPHC) which announced a merger with Lordstown Motors in June 2020. Since publishing the article last month, the share price has increased by 105% and has traded up by as much as 130% in the interim. After reviewing several special situations in the markets, we again focus our attention on a recently announced SPAC merger with significant upside potential, but limited downside risk ahead of the shareholder vote scheduled for some time in Q4 2020.
On August 26, 2020, Trine Acquisition Corp. (TRNE), a $261 million SPAC, announced its intention to merge with Desktop Metal, a VC-backed startup that has been at the forefront of the additive manufacturing space for nearly five years. Despite not being a part of the electric vehicle SPAC limelight, we believe investors will shortly uncover this incredible opportunity and its significantly asymmetric risk/reward opportunity.
The consummation of this merger will bring together the undisputed leader in Additive Manufacturing 2.0 ("AM 2.0") with many of the best and brightest venture capital, private equity and public market investors in the world. This will be the first publicly listed pure play AM 2.0 company in the United States; and, flush with fresh powder and access to efficient capital markets, will be perfectly situated for significant growth, both organically and through the acquisition of other next generation AM 2.0 companies.
In a sense, Desktop Metal will morph into a public venture powerhouse with a hyper-aggressive acquisition strategy aimed at completely dominating the Additive Manufacturing market. We expect Desktop Metal, which held the record for being the fastest company to achieve unicorn status, to identify, acquire, and create other unicorns under its umbrella.
As we've said in previous articles, SPACs are bets on the jockey, not the horse. More than any other SPAC out there today, this merger has a stable full of jockeys, and we're excited to see what the future holds.
Special Purpose Acquisition Companies (SPACs)
At the risk of boring our readers with another explanation of what SPACs are and how they work, we're going to encourage those who want more information to read the "So What is a SPAC" section of our recent article on TheDrive.com that lays out this information in a way that's easy to understand.
One thing to note, since publishing that article, is that the SPAC euphoria remains in full effect (to say the least). The SPAC boom that was kicked off by the major successes of Virgin Galactic (SPCE) and DraftKings (DKNG) is still booming. For those keeping score, in the last week alone (from September 10-15), at least 14 SPACs completed IPOs raising more than $4.1 billion.
What is 3D Printing/Additive Manufacturing and Why is It So Important?
Additive Manufacturing is a technology that leverages computer-aided design to lay down or add numerous successive layers of liquids, powders or other various materials, in a layer-upon-layer fashion to fabricate three dimensional objects ranging from fidget spinners to components for spacecraft engines and from entire houses to replacement body parts made from human tissue.
For the purposes of this article, it's important to note that the terms 3D Printing and Additive Manufacturing are technically interchangeable. That being said, 3D Printing is generally used to describe the entry-level technologies that make plastic parts with limited precision, oftentimes used for the rapid prototyping of hardware components. Furthermore, Additive Manufacturing, and more specifically, AM 2.0, is used to describe more sophisticated technologies that can make parts with additional materials, such as metals and alloys, with higher levels of precision. AM 2.0 is aimed at replacing traditional manufacturing all together.
As a side note: Prior to launching Concourse Partners, we owned a technology startup that was acquired by a private equity group in 2019. While our primary focus at the company was to license its proprietary technology to OEMs, we also designed and manufactured a line of consumer products. If you have ever heard someone say that "hardware is difficult", they are right. From our experience in the industry, here is why:
Using traditional manufacturing techniques, creating products and components is, without exception, a time consuming and extremely expensive process. Even creating prototypes of relatively simple parts can take weeks and many thousands of dollars.
In its simplest form, traditional manufacturing processes require an industrial engineer to design schematics that meet the product requirements and aesthetics, all the while making sure that each and every part is possible to manufacture and designed in a way that will minimize the waste of materials. It's paramount that the industrial engineer be experienced because anyone can make a pretty picture, but in reality, there are significant limitations to what can be manufactured at scale using traditional manufacturing processes.
Once the designs are complete, a manufacturer will create a tool or mold to be used as a guide for production. Making the tool can take weeks or months and cost tens (if not hundreds) of thousands of dollars. Once the tool or mold is made, it often takes weeks of making minor adjustments to get it just right. Also, once the tool is made, you better like the design because any changes mean starting all over.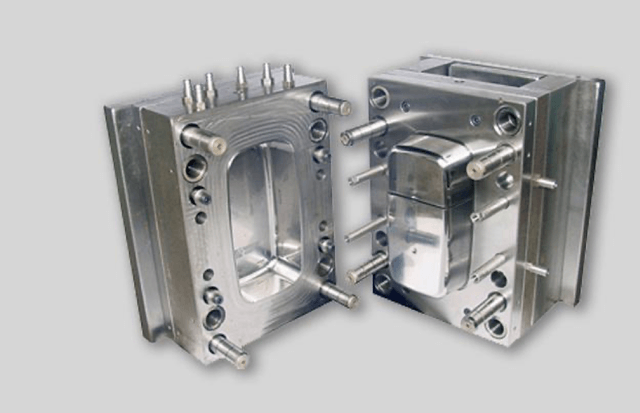 Example of Traditional Manufacturing Tool/Mold, Source: VSMolding.com
It's important to know exactly how many units you need to make, because there is an added cost and time of ramping up and scaling down the production process each time. Also, since you are manufacturing enough units to stock inventory for a period of time (whether it be a week or a year), you now need a place to store it all.
Good luck!
Additive Manufacturing, on the other hand, has a few key advantages over traditional manufacturing processes: First, it doesn't require any tooling. Not only does this drastically cut down the total time and upfront cost of getting to production, but it also allows you to change the design as much as you want.
Second, there is no need to rely on sales projections to decide how many units to make. With little or no cost of ramping up or scaling down production, you can produce units on an as-needed basis, which also gets rid of the bulk of the cost of warehousing inventory. Third, by using the exact amount of material where it is needed, there is very little and oftentimes virtually zero wasted material.
Like most technologies, the path to commercial success doesn't happen overnight. While the concept of 3D Printing/Additive Manufacturing has been around for decades, it only started to have widespread adoption within the last decade, as startups like Stratasys (SSYS), 3D Systems (DDD), and Proto Labs (PRLB) brought cost effective solutions to the market.
At our former company, we purchased a LulzBot Mini entry level 3D printer in January 2017 and our flagship print was the iconic octopus sporting the "rock on" gesture (seen below). Overnight, we went from spending thousands of dollars and waiting days or weeks for rough prototypes to arrive from across the country (and sometimes the world), to testing out new ideas and iterating on the ones we liked in real time. Were these prototypes perfect? Not even close. But we were able to get 95% of the way there before lunch.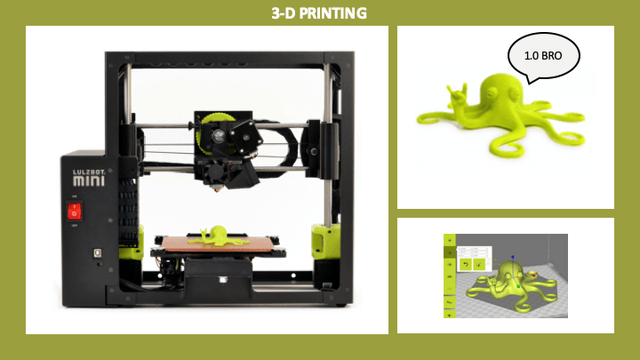 Images: LulzBot
While 3D printing has great applicability to the design process and rapid prototyping, it doesn't come close to producing finished products or replacement parts on demand without any significant setup time or cost.
That's Where Desktop Metal Comes in
Desktop Metal was founded in Cambridge, MA in 2015 with the goal of creating the next generation of 3D Printers, dubbed "Additive Manufacturing 2.0", that could produce parts and components made out of metal.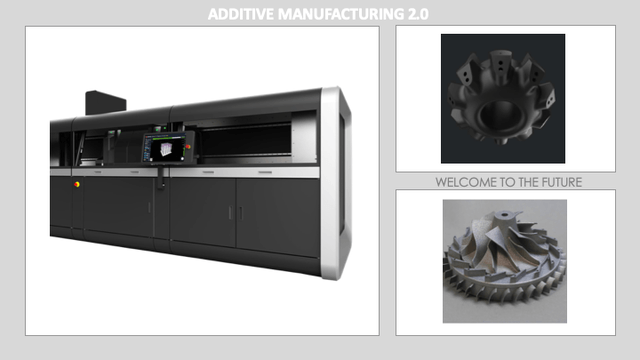 Images: Desktop Metal
Since then, the company has raised nearly $450 million from premiere venture investors, including Kleiner Perkins, NEA, Lux Capital, Google Ventures, GE Ventures, BMW, and Lowe's and, in May 2018, became the fastest company to reach a valuation of at least $1 billion in the history of the United States, having done so after less than 21 months in operation. To date, the company has brought four products to market:
The Studio System, a metal 3D printing system catered to engineers and small production runs (office-friendly production of prototypes and low volume, end-use parts)

The Production System, intended for manufacturers and large-scale printing (serial, mid-volume production of dense, customer-ready metal parts)

The Shop System is designed for machine shops (serial, mid-volume production of dense, customer-ready metal parts)

The Fiber industrial-grade composites printer uses automated fiber placement (print continuous fiber-reinforced parts with aerospace-grade AFP tape)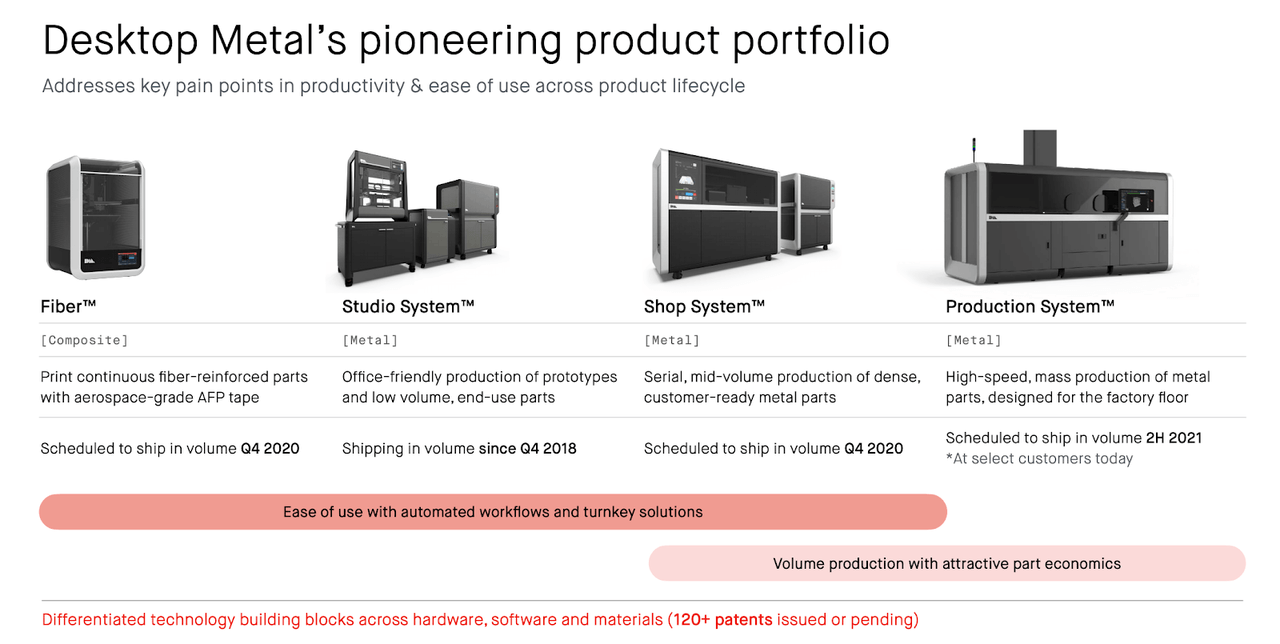 Source: Desktop Metal Investor Presentation
Key Considerations
On the conference call announcing the proposed merger, Leo Hindery Jr., TRNE's Chairman and CEO, laid out the four key reasons that merging with Desktop Metal was the most compelling investment opportunity as compared to the "hundreds" of target companies his team analyzed following their IPO in March 2019. We have laid out these reasons along with additional commentary and a few reasons of our own below:
1. 3D Printing Stock Boom Round Two – In 2011, public market investors started to warm up to 3D Printing companies (some of which had been founded and went public many years earlier) believing in their promises of bringing to market Additive Manufacturing technologies that would replace traditional manufacturing altogether. In the run up from 2011 through the end of 2013, DDD's stock soared ~900%, SSYS' share price appreciated ~300% and a slew of 3D Printing startups, including PRLB, went public to cash in on the frenzy.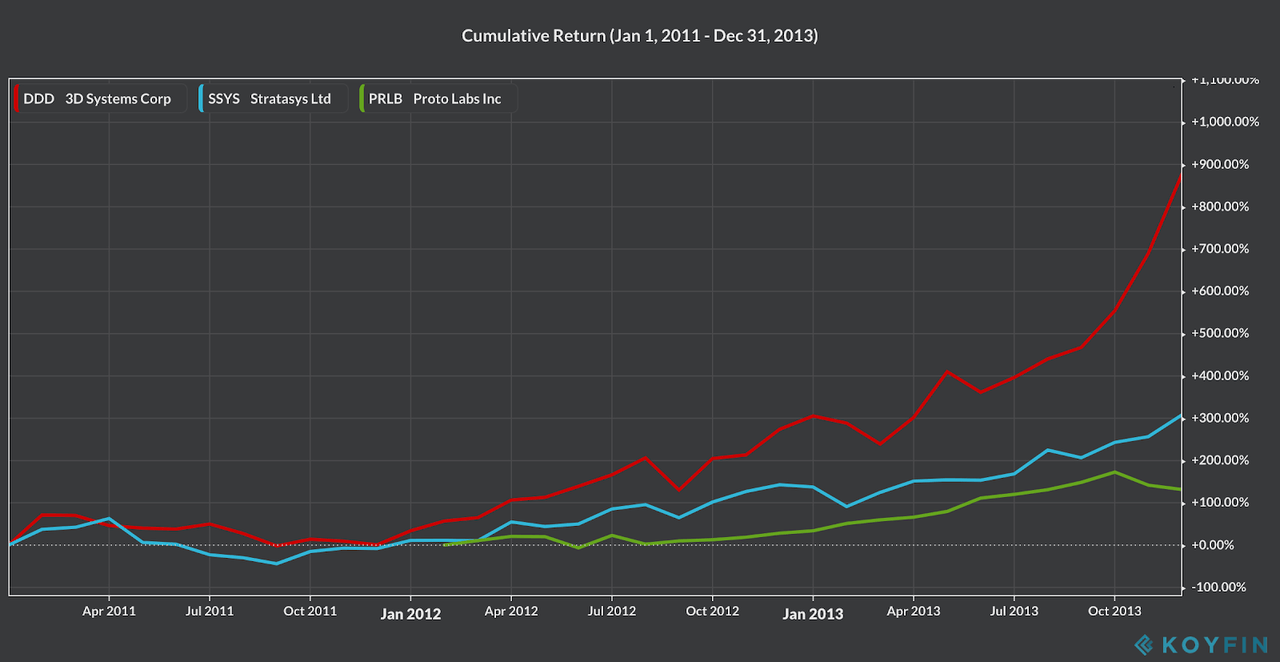 Source: Koyfin.com
As investors realized that the 3D printers available at that time were of the "entry-level" variety and far from putting injection molding out of business, the hype settled, and these companies' share prices returned to their previous levels. Fast forward almost 10 years, we are now witnessing the turning point where traditional manufacturing is being challenged and will surely lose significant market share to AM 2.0 in the coming decade and beyond.
It is always difficult (if not impossible) to time the next gold rush, but when the time comes, we believe that Desktop Metal will be worth as much, if not multiple times more than where investors valued 3D printing companies in the early 2010s. Keep in mind that, in 2011, DDD and SSYS were already listed and actively traded on US stock exchanges. In contrast, once the merger with TRNE is complete, Desktop Metal will be the only pure play AM 2.0 stock trading in the US.
At the end of 2013, DDD and SSYS were valued at approximately $10 billion and $6 billion, respectively. As such, we believe that Desktop Metal has potential share price appreciation of at least 140-540% in the near term.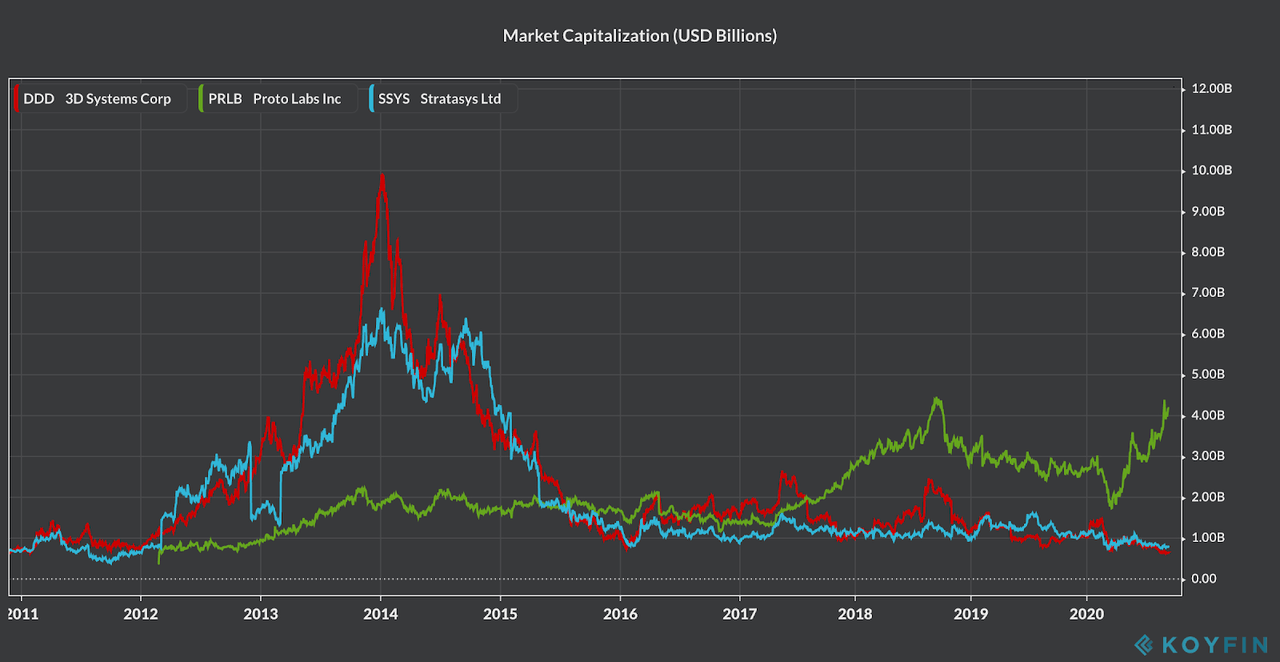 Source: Koyfin.com
2. Large Total Addressable Market – This one goes without saying. How big is the global manufacturing market? Too big for the answer to matter. That being said, experts agree that AM 2.0 is going to drastically change the global supply chain and is poised to grow by more than 10x over the next decade.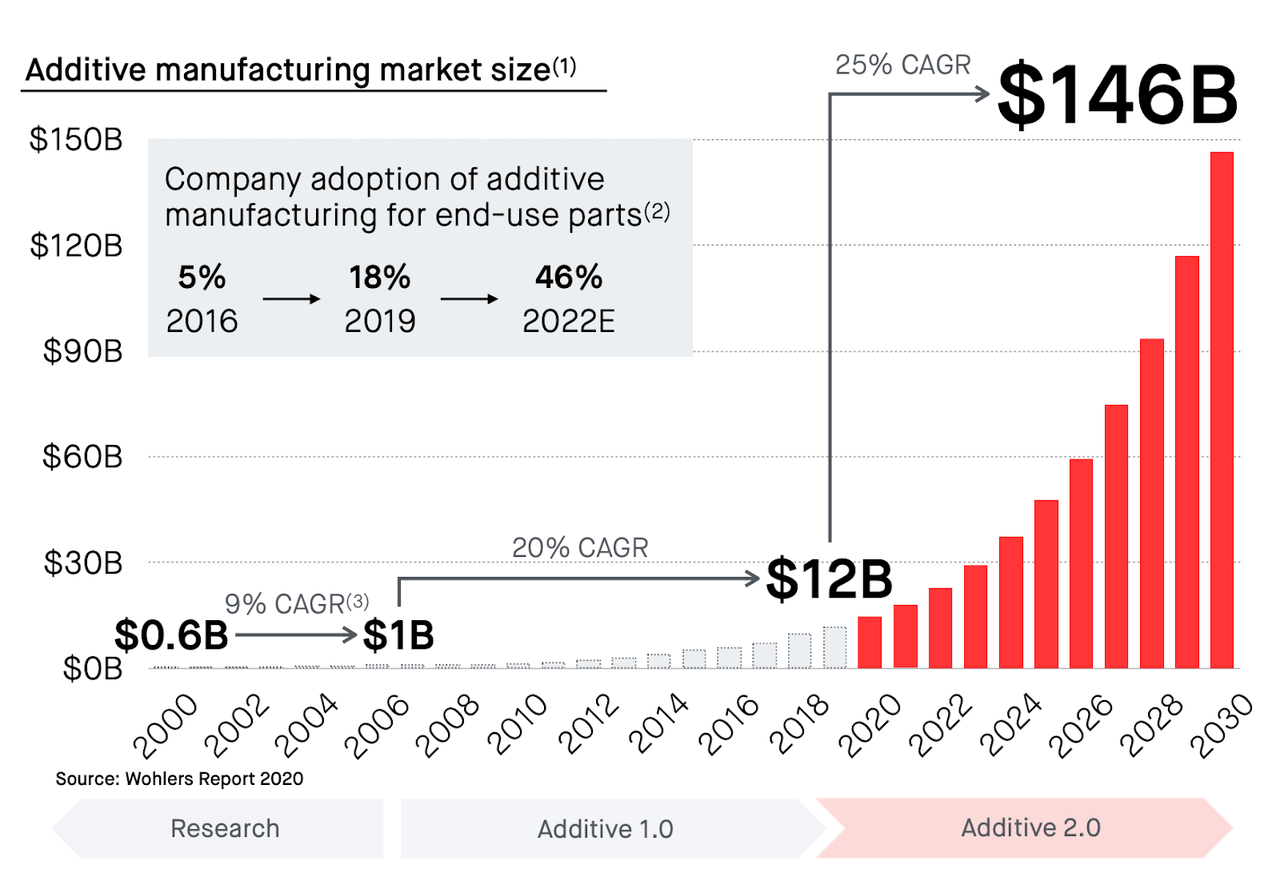 Source: Desktop Metal Investor Presentation
3. First Mover Advantage – Desktop Metal has a robust portfolio of hardware and software products and patents that cover significant and groundbreaking advancements in various additive manufacturing processes that solve critical pain points for customers and deliver superior ROIs versus competitive offerings available in the market today.
4. Razor/Razor Blade Business Model – Similar to the traditional inkjet/laser printing model (you know, the one that made Hewlett Packard a household name), every time Desktop Metal sells a unit, it is setting the stage for a long-term recurring revenue stream with relatively high margins that will result in customer LTVs (long-term value) far greater than the upfront cost of research and development. A significant advantage over the inkjet printer, however, is that the high cost of Desktop Metal's systems will create stickiness, making it difficult for existing customers to go elsewhere.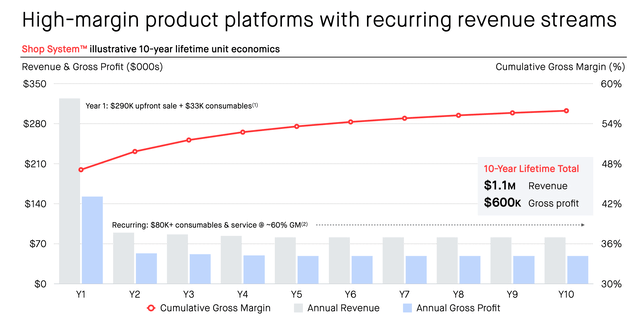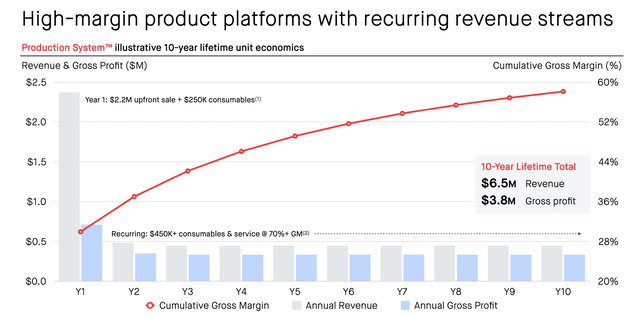 Source: Desktop Metal Investor Presentation
5. A+ Team – One thing that is universal about investing in companies, from seed-stage startups to Fortune 50 conglomerates, is that, in order to be successful, a company must have the right people at the helm.
Starting at the top is Leo Hindery Jr., TRNE's sponsor. Mr. Hindery has significant experience leading public companies and a track record of creating value and increasing his company's share prices. In the late '90s, he led TCI to a nearly 400% increase in market value, culminating in the $52 billion sale to AT&T (NYSE:T). Mr. Hindery later became the CEO of AT&T Broadband.
Working in tandem with Mr. Hindery is HPS Capital Partners, a New York-based global investment firm with approximately $62 billion under management, a vast majority of which is from institutional investors. HPS employs 144 investment professionals across its 12 offices and its CEO, Scott Kapnick, is a former Partner and Co-Head of Global Investment Banking at Goldman Sachs (among other impressive credentials).
According to Mr. Hindery, Desktop Metal's management team and board of directors are a major reason he believes this merger has more potential than all the other deals he saw over the last year and a half. As he pointed out on the conference call announcing the deal, this management team has a history of delivering returns to investors, and the board of directors includes some of the leading minds in management and technology.
As is quickly noticeable from the team page of the investor presentation below, a significant portion of the management team worked together prior to Desktop Metal, at a company called A123 Systems, a lithium iron phosphate battery company targeting the hybrid and electric vehicle market, which spun out of MIT and was also founded by Ric Fulop.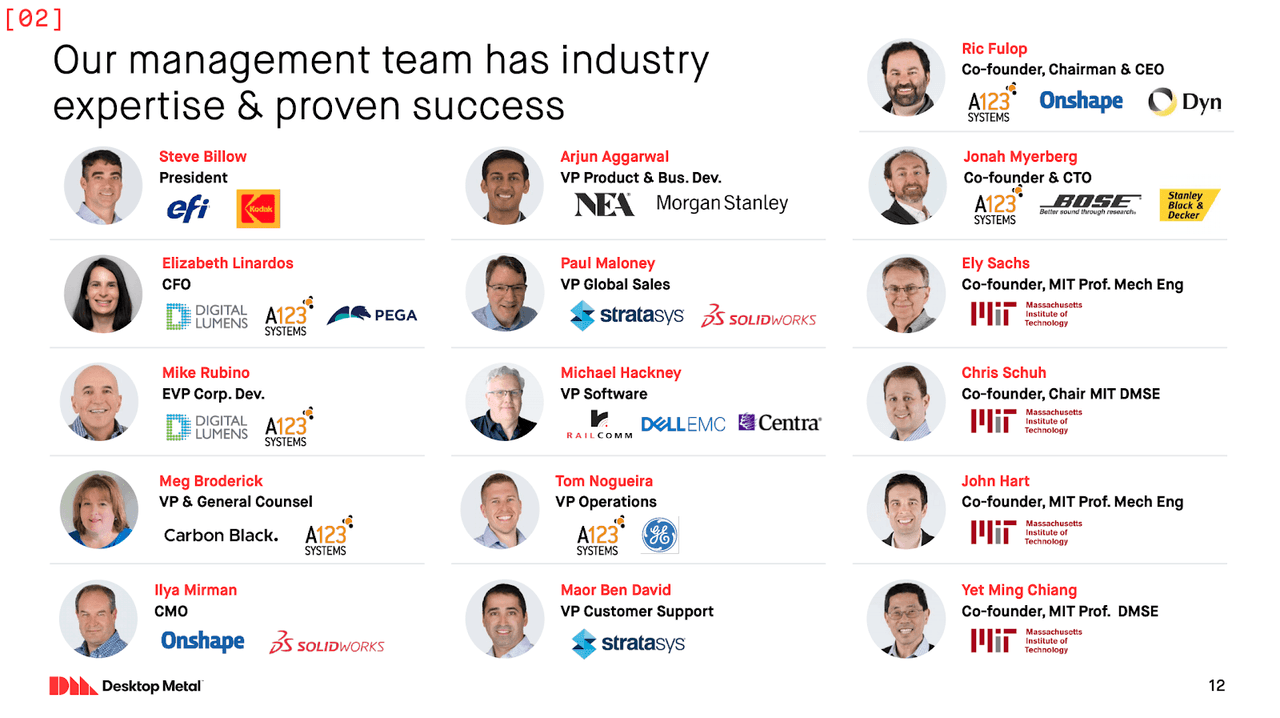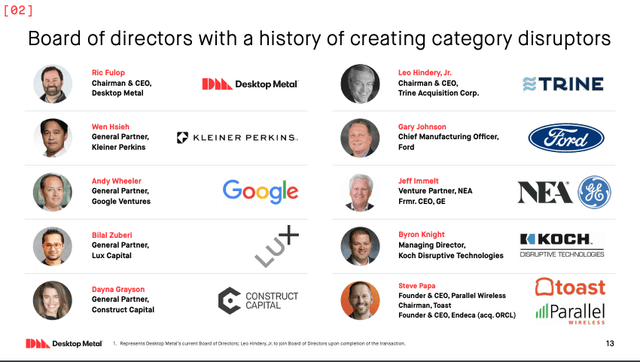 Source: Desktop Metal Investor Presentation
6. Unique Opportunity to Invest Alongside Chamath Palihapitiya – Chamath Palihapitiya is one of the lead investors of the $275 million PIPE transaction that will close alongside the merger between TRNE and Desktop Metal. The opportunity to invest at similar terms to Chamath is nearly unattainable for everyday investors like us. In fact, Chamath is going to be restricted through the PIPE, so one could argue that we are able to invest on even better terms (that being said, we don't think he's looking at this as a short-term trade).
In case you are interested, he laid out in bullet form the investment thesis that led him to be so bullish on the merger.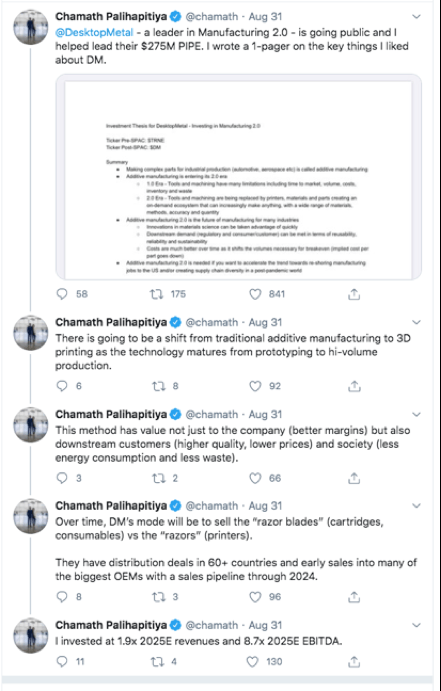 Source: Twitter
If you are not familiar with Chamath, or why his endorsement and support is significant, read here:
Chamath started his career at AOL where he headed up heading the AIM division and became the company's youngest Vice President. Shortly after leaving AOL, Chamath joined Facebook as one of its earliest employees, tasked with increasing the social network's user base. After leaving Facebook a billionaire, Chamath founded and has remained the CEO of Social Capital, one of the preeminent venture capital and private equity firms in Silicon Valley, where he was an early backer of companies like Box (NYSE:BOX) and Slack (NYSE:WORK). It's fair to say this guy knows what he's doing.
More recently, Chamath kickstarted the resurgence of SPACs by merging his flagship SPAC, Social Capital Hedosophia Holdings, with Virgin Galactic in a $2.3 billion transaction last October. Since then, he has raised more than $1 billion between two additional SPACs, Social Capital Hedosophia II (IPOB) and III (IPOC) and, just this week, announced his intention to merge IPOB with Opendoor in a $4.8 billion merger.
At the time of publication:
SPCE was priced at $17.70 (77.0% premium to the IPO price), about one year following the merger with Virgin Galactic;

IPOB was trading at $17.56 (75.6% premium to IPO price), shortly after the announcement of the proposed merger with Opendoor; and,

IPOC was trading at $12.15 (21.5% premium to IPO price), having yet to announce a proposed merger transaction. While SPACs that are still in search mode typically trade within a few percentage points around their trust amount, the common shares of this SPAC are trading at a massive premium because investors have strong conviction in Chamath's ability to invest in companies that will yield superior returns.
Without a doubt, Chamath getting his first SPAC through the merger with Virgin Galactic successfully and the stock's subsequent rise to a high of $42.49 paved the way for the other SPAC merger announcements and closed deals of 2020 (like DKNG and GRAF, among others) and were significant drivers in the dumbfounding resurgence of the SPAC market. Would there still be a SPAC market if Chamath never dipped his toe in the game? Of course. But would the craze be as far off the charts? Probably not.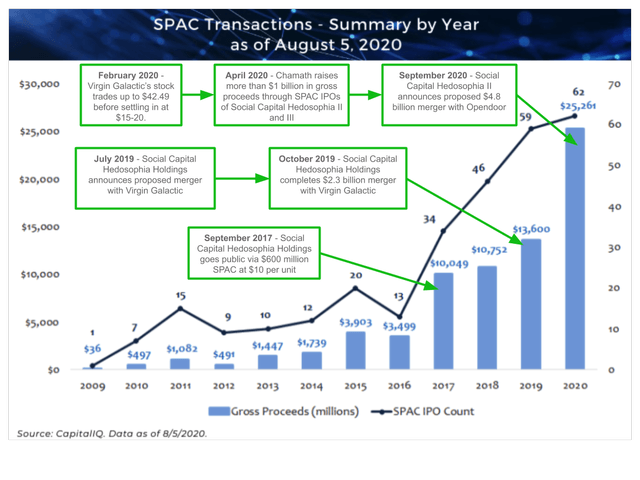 Source: Created using image from CapitalIQ
7. Blue Chip Customers – There is a reason that Desktop Metal was the fastest Unicorn in US history. The company followed a proven formula, and it starts with validation. The client list below demonstrates that they can win business. In a new industry, it's a land grab: Prove your product works, adds value, land large and sticky customers. Penetrate those customers further and execute on multi-year contracts. Mission accomplished.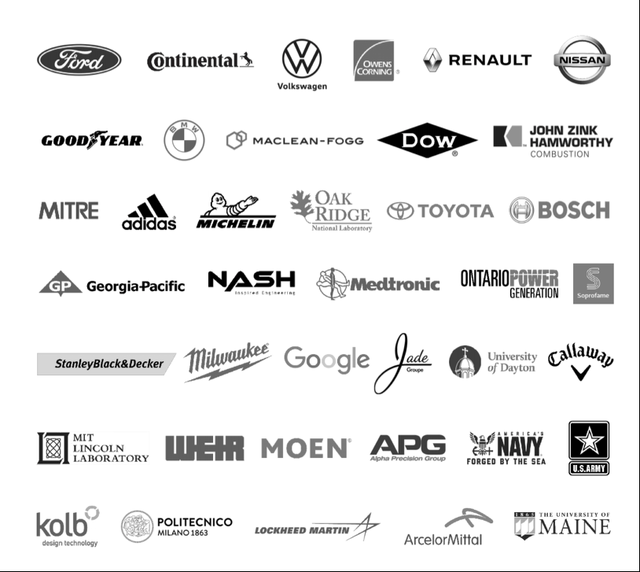 Source: Desktop Metal Investor Presentation
8. Abundant M&A Pipeline (SPAC within a SPAC) – Desktop Metal is doubling down on the idea of being the only pure play additive manufacturing investment available in the public markets. As with any industry, being the first and only can only last for so long. As such, Desktop Metal has made it clear that following the completion of this merger, a large part of the continued strategy will be to acquire other players in the Additive Manufacturing space, especially those in complementary verticals, before they go public on their own, either by traditional IPO, direct listing, SPAC, reverse merger or otherwise. As you can see in the image below, there is no shortage of opportunities to consolidate players in the industry.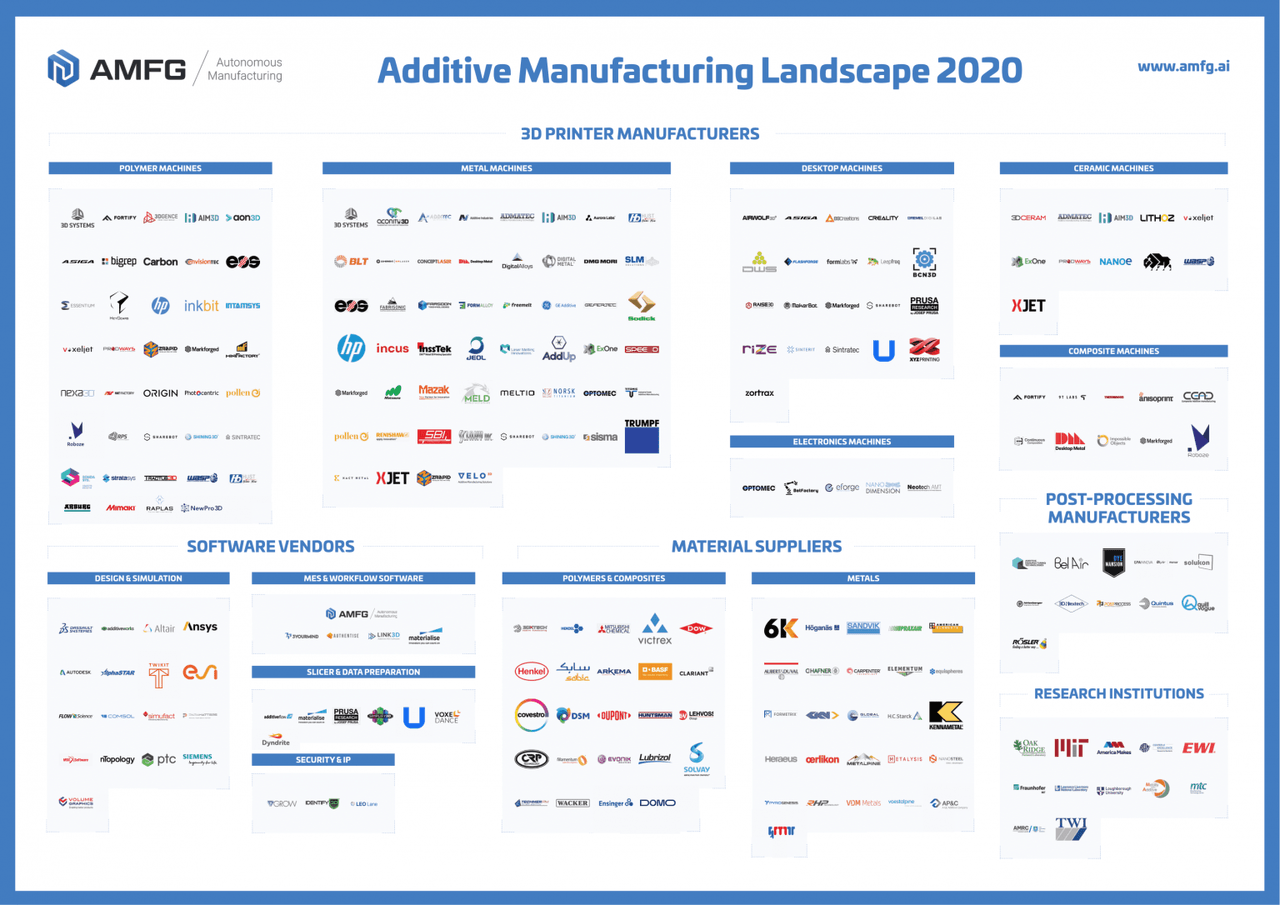 Source: AMFG
According to their investor presentation, Desktop Metal has identified ~$2 billion of revenue opportunities across 60+ companies, and is currently in contact or actively engaged in M&A discussions with at least 10 of these companies.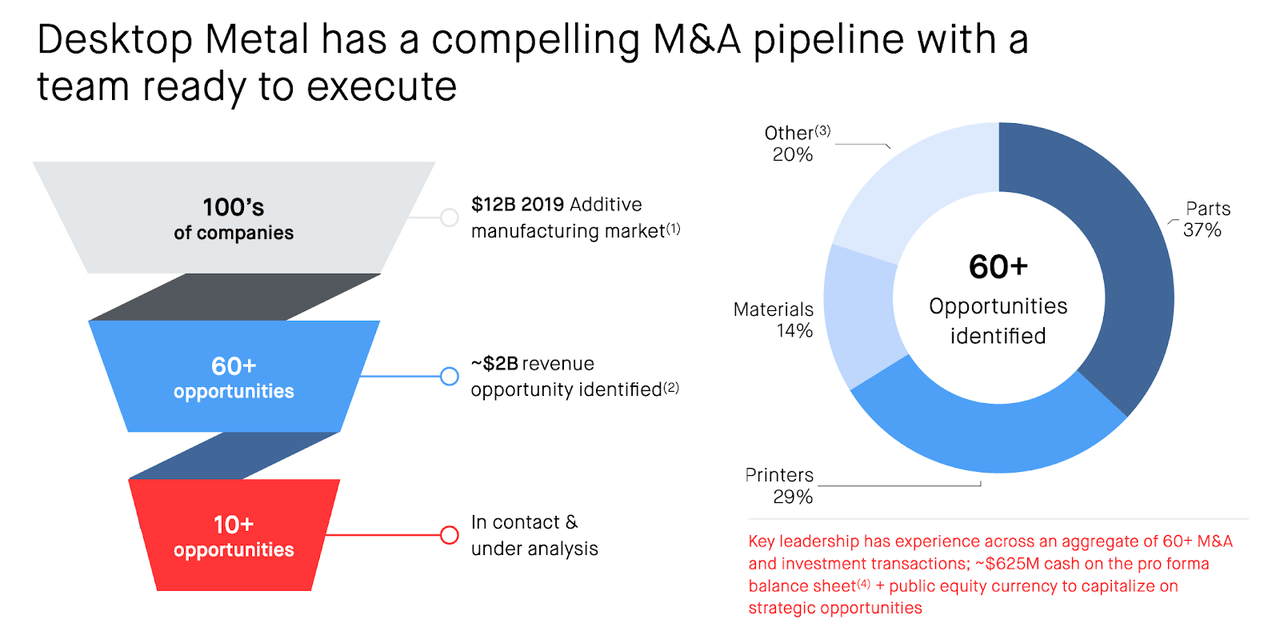 Source: Desktop Metal Investor Presentation
Summary of Proposed Merger between Trine Acquisition Corp. and Desktop Metal
| | |
| --- | --- |
| Cash Proceeds | |
| SPAC Trust | $300 million |
| Simultaneous PIPE | $275 million |
| Transaction Expenses | ($49) million |
| Net Cash Proceeds | $526 million |
Pipe Investors: Miller Value Partners, XN, Baron Capital Group, Chamath Palihapitiya, JB Straubel, and HPS Investment Partners.

Following the merger, each share of TRNE will be redeemable for one share of "DM"

Enterprise Value: $1.8 billion

Pro Forma Equity Value: $2.5 billion

Post Transaction Cash: ~$625 million
| | |
| --- | --- |
| Pro Forma Cap Table | |
| Existing Shareholders | 75% |
| SPAC Investors | 12% |
| PIPE Investors | 11% |
| Founders | 2% |
| Fully Diluted Ownership | 100% |
Bold Predictions
Investors will turn their attention to TRNE now that the proxy was filed on September 15, 2020, just minutes before Chamath announced IPOB's proposed merger with Opendoor and co-hosted CNBC at 8:00am. Coincidence? Doubtful.

Leading up to the merger, we will receive updates on new customer and contract wins further highlighting the impressive customer base.

The transaction will close in Q4 2020.

The dream team of investors is already wining and dining other AM 2.0 companies to lure them into the dreams of being acquired in the future.

Desktop Metal will look a lot different this time next year with several companies under its wing in the hope of becoming the 800lb gorilla in an industry that's projected to grow to $145 billion in the coming years.
Risks
As with most technology businesses, there are inherent risks associated with owning TRNE. First, there is the risk that for whatever reason, the merger with Desktop Metal is not approved and does not close. As explained earlier, the maximum downside risk prior to the merger is 16%. Investors will have the opportunity to vote their shares and receive approximately $10.17 plus additional interest regardless if the deal closes or not. Second, there is the possibility that furthering the development of the Additive Manufacturing 2.0 systems to a point that allows for widespread and scalable production of components and products in a cost effective manner for companies of all sizes is never achieved. Third, capturing a significant portion of the Additive Manufacturing, let alone entire manufacturing and production markets, could be more expensive and take longer than management currently expects. As a result, Desktop Metal may need to raise additional capital to fund ongoing operations, which will result in dilution to equity holders. Fourth, advancements in other additive manufacturing technologies will encourage additional investment into the competing additive manufacturing companies. Competition from existing Fortune 500 manufacturers and other newcomers alike will continue to increase indefinitely. Last, as with all investments, there exists systemic market risks that include, but are not limited to, uncertainty regarding COVID-19 and the upcoming United States presidential election.
Summary
On a standalone basis, investors have the ability to purchase shares of Desktop Metal ahead of its merger with TRNE. In doing so, investors would be buying into the preeminent leader in a fast growing and attractive sector that, based on its future projections, is trading extremely cheap.
While that is all well and good, it's crucial to take a step back to read between the lines on this deal. Being relatively well funded in any industry makes it possible to maintain a lead and acquire additional market share. Being well funded and the first to be public creates an even greater lead ahead of the competition.
SPACs, in their simplest form, are a pure bet on the jockey and not the horse. This SPAC is somewhat unique in that investors have the ability to bet on an entire stable of jockeys that can all leverage a seemingly incredible horse. It's a best of both worlds approach. You get Desktop Metal, but as the company has clearly spelled out, they intend to leverage their public listing and $526 million of dry powder to effectively roll up the Additive Manufacturing 2.0 industry.
Roll-ups aren't for everyone. In fact, many investors shy away from them because they are relatively boring, have extremely complex accounting that is hard to digest and they generate continuous dilution in exchange for modest increases in cash flow.
On the contrary, Desktop Metal will be able to mitigate dilution by leveraging its cash reserves, and any dilution won't be in exchange for a little more cash flow, but rather shots at AM 2.0 unicorns of tomorrow.
Disclosure: I am/we are long TRNE, DPHC. I wrote this article myself, and it expresses my own opinions. I am not receiving compensation for it. I have no business relationship with any company whose stock is mentioned in this article.